Currently browsing the "
Hunt for the Wilderpeople

" tag.
It's that time of year – when friends, family, and strangers in the elevator ask, "Hey, Did you see [fill in the blank]? Is it any good? What's your favorite movie of 2016?" Well, here I attempt to answer those questions as succinctly as possible — with a countdown of my top ten movies of the year (12 if you count the ties), as well as a bunch of honorable mentions. They are films that resonated for one (positive) reason or another and represent a broad range of genres. Check 'em out!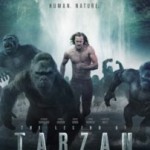 The Legend of Tarzan – Does the world need another Tarzan (movie)? No. But at least it's way better than I – and most everyone around me – expected it to be. The Legend of Tarzan offers a new take on an old tale, with a healthy dose of eye candy. Swedish actor Alexander Skarsgård (True Blood) plays John Clayton III aka Lord Greystoke aka Tarzan. John has traded in the jungles of Africa for a gentrified life in London with his sassy and beautiful wife Jane (Margot Robbie). He's perfectly content to be free of the Jungle ("It's hot there"), but he is roped into accepting an invitation to return to the Congo to serve as a trade emissary of Parliament, unaware that he's being set up by a nasty Belgian dude (Christopher Waltz in his usual creepy, sneering role) who plans to turn Tarzan over to an African chief bent on revenge. The movie has elements of a lot of genres – there's romance, drama, action, (CGI) animals, comic relief (from Samuel L. Jackson as an American, George Washington Williams, looking to expose an illegal slavery and mining operation) — but it all hangs together surprisingly well. The Legend of Tarzan feels a lot like a standard superhero flick, which makes it perfectly fine summer fare for the older kid/adult crowd.