Currently browsing the "
I Love You Phillip Morris

" tag.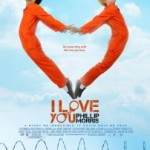 Offbeat is the best word I can think of to describe I Love You Phillip Morris. Essentially it's a gay prison love story based on the true life tale of a Texas con man named Steven Russell. Jim Carrey plays Russell, and it's hard to tell if we're supposed to be taking him seriously or not. He can be a really good dramatic actor but his performance here is at times over the top – good for the screwball comedies he's in, not necessarily good in this movie.