Currently browsing the "
inspired by true events

" tag.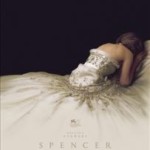 If ever there were an anti-Hallmark movie, a fairy tale in reverse, this might be it! From the very first frame, Spencer self-identifies as "a fable from a true tragedy," and word of warning: you've got to have some knowledge of the royal marriage of "Charles and Diana" and its disastrous end to truly grasp what the film is trying to convey—a very depressed, lonely, free-spirited and bulimic Princess (Kristen Stewart) teetering on the brink. If not for her love and devotion to sons William and Harry, her royal highness Diana Princess of Wales (as she was known pre-divorce) would surely spiral out of control. It's a royal shame.
12 Mighty Orphans is one of those inspiring underdog sports movies inspired by real events subject to Hollywood tinkering to condense time, amalgamate characters, and boost tension – as with the recent Blue Miracle on Netflix. That one's about a group of orphans in Mexico and their devoted guardian who entered and won a prestigious fishing competition. This one's about a group of scrappy orphans in wartime and depression-era Texas who – with the help of a devoted coach – defy the odds to compete with the big boys in High School football. Think "Friday Night Lights" – with orphans- in the 1930s.