Currently browsing the "
Irrfan Khan

" tag.
Directed by Marc Turtletaub, who produced Sundance faves Little Miss Sunshine and Sunshine Cleaning, Puzzle is the story of Agnes, a woman in her 40s who has yet to push the limits of her proscribed identity of wife and mother. Her life consists of taking care of her husband and two college-age sons and taking part in her local Catholic church. But when she receives a jigsaw puzzle for her birthday, it leads her to begin venturing out and finding that life has a lot more to offer. Kelly Macdonald (No Country for Old Men, Boardwalk Empire ) is simply perfect as the awakening protagonist, putting together the pieces of her new life and realizing her own worth. It's not a big film, but it is satisfying.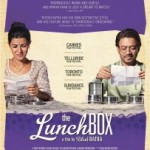 In this lovely little Indian chick flick, two lonely strangers meet through an accidental food delivery mix-up. Saajan is an accountant, a month away from early retirement when he starts receiving the wrong lunchbox from his lunch delivery person. I didn't know that there were such wonderful services available, but in Mumbai, thousands of people have hot lunches brought to their offices daily, many cooked at home just hours before. In this case, Ila thinks she is cooking for her emotionally distant husband, but once she finds out that another man is appreciating her cooking, she keeps on sending him her delicious food. It helps that Saajan has sent a note to her in the returned lunchbox praising her culinary skills, something her husband has never done. Soon she is sending food with her own notes, which he is happy to respond to, and their relationship develops from there.