Currently browsing the "
Jack Farthing

" tag.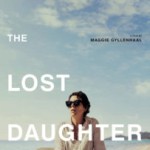 In her directorial debut Maggie Gyllenhaal demonstrates that she's as talented behind the camera as in front. Oscar winner Olivia Coleman (The Favourite) stars in this psychological drama adapted from a novel by Elena Ferrante ("My Brilliant Friend"). She's Leda, a college professor on a working holiday in Greece who encounters a young mother named Nina (Dakota Johnson, Fifty Shades,The Peanut Butter Falcon) and her unsettling family on the beach and becomes fascinated by her and lost in the memories of her own fraught relationship with marriage and childrearing. It's a strangely suspenseful film blessed with fabulous performances.
My "Cinema Clash" podcast partner Charlie asked if I had watched Love Wedding Repeat on Netflix yet, suggesting it was a "Hannah movie." In theory, he was right. It's a chick flick, a romantic comedy with a potentially engaging premise, and British actor Sam Claflin (Me Before You, Adrift, Journey's End) channeling the RomCom sensibilities of Hugh Grant. Given the dearth of new releases during the current pandemic, I figured it was worth checking out. Sadly, I was the one checking out mentally as the 100-minute movie meandered along at a surprisingly slow pace. I kept waiting for the plot to kick in. Or the romance. Or the comedy. Love Wedding Repeat is short on all three. Claflin's chops – and charm – are sorely wasted. Even the film's backdrop – Italy! – is wasted, as most of the "action" takes place during an indoor wedding reception.