Currently browsing the "
Jason Statham

" tag.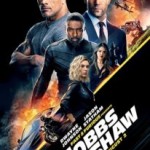 Some films – like Once Upon a Time… in Hollywood – require a great deal of thought and dissection and debate. They are the full-course meal that swirls around the discriminating palate to be savored or rejected, or something in between.
Sometimes, however, you just want popcorn for dinner. And that's where movies like Fast & Furious Presents: Hobbs & Shaw come into play. Bon Appétit!
We're late to the party on Killer Elite. But it's certainly not a chick flick and frankly, it will probably be out of theaters faster than Jason Statham could kick your a$$. From this chick's perspective, Statham is one of the two things this movie has going for it. The other is Clive Owen. Beyond that, it's pretty much a mess. Supposedly it's based on a true story. Um, okay if they say so. What that story is, I'm not sure and I didn't really care enough to Google it and find out.