Currently browsing the "
Jemaine Clement

" tag.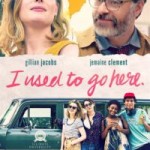 In this likable little indie comedy, thirty-something Kate (Gillian Jacobs from TV's Community) has just published her debut novel and is excitedly planning for her first book tour. Then her agent calls to tell her that sales are slow and it's been canceled. On top of it her recently ex-fiancé isn't returning her calls. And all her friends are having babies. And life sucks. So what's a girl to do? Accept an invitation from her favorite professor and mentor to return to her alma mater in Carbondale, Illinois for a reading to his latest writing class. What follows is a light and somewhat familiar story, elevated by a well-chosen cast and solid direction by Kris Rey (Unexpected).
I lie in bed and overthink everything in my life on a regular basis, but I don't think everyone needs to hear about it. Writer/director Mike White (School of Rock, Beatriz at Dinner), however, thought that that kind of obsessive inner life monologue would make for a great film. Perhaps, though not this film. In Brad's Status, Brad (Ben Stiller) is a dad about to take his only son (Austin Abrams ) on a college tour, and it throws him into a self-absorbed walk down memory lane where he compares his life with those of his classmates (Michael Sheen, Jemaine Clement, and Luke Wilson) and comes up totally lacking. Though there is dialogue in the film, Brad's voice-over dominates. And boy is he annoying.