Currently browsing the "
Jennifer Hudson

" tag.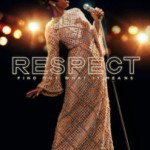 You gotta respect the artist and the music, even if the movie itself feels a bit stale. Jennifer Hudson sings it out of the park as the legendary 'Queen of Soul' Aretha Franklin in the biopic RESPECT, which surely would have pleased Franklin who handpicked Hudson for the role. Yet the script does not compel Hudson to showcase the emotional range that earned her a Best Supporting Actress Academy Award for Dreamgirls in 2007. RESPECT is at its best when the music is playing, and when we see how "Re-Re" (as Aretha was known) can take a song, rearrange it, and make it her own. The film is at its worst when skimming through all the obstacles she had to overcome along the way, including physical, sexual and verbal abuse, the sudden death of her mother, a childhood pregnancy, a controlling father, a jealous hothead husband, alcoholism. However true, it's presented as a mass of cliches familiar to a slew of biopics and documentaries, including recent explorations of the hard knocks endured by Tina Turner and Billie Holiday, and the role of faith and music in their respective journeys.
I still have my ticket stub from the July 27, 1983 performance of CATS at the Wintergarden Theatre on Broadway. It was a Wednesday matinee and my orchestra seat cost $35. Betty Buckley played Grizabella the Glamour Cat. She sang "Memory." I was hooked. I will always be a fan of the music. I will continue to defend the songs, the dancing, and the whimsical appeal of Andrew Lloyd Webber's classic stage production.
I can't, however, defend the movie. It simply doesn't work.