Currently browsing the "
Joel Fry

" tag.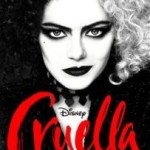 Cruella is a campy comedy crime caper that tells the origin story of one of the most iconic villains in cinematic history – especially if you're a dog lover. It's a prequel to the 1996 live action adaptation of Disney's 1961 animated classic 101 Dalmatians based on the 1956 novel by Dodie Smith. Got all that? Like the character herself, there are a couple of different sides to Cruella the film. It's based on a "kids movie" but is rated PG-13 and has a soundtrack that will land squarely in the wheelhouse of many adult viewers. The dialogue is witty and the themes are dark. And it stars two Emmas — Stone and Thompson — who both know how to land a dramatic punch and a punchline. Cruella could use a nip and a tuck here and there to bring the film under two hours (it runs 134 minutes) but overall it's a fun watch.
My "Cinema Clash" podcast partner Charlie asked if I had watched Love Wedding Repeat on Netflix yet, suggesting it was a "Hannah movie." In theory, he was right. It's a chick flick, a romantic comedy with a potentially engaging premise, and British actor Sam Claflin (Me Before You, Adrift, Journey's End) channeling the RomCom sensibilities of Hugh Grant. Given the dearth of new releases during the current pandemic, I figured it was worth checking out. Sadly, I was the one checking out mentally as the 100-minute movie meandered along at a surprisingly slow pace. I kept waiting for the plot to kick in. Or the romance. Or the comedy. Love Wedding Repeat is short on all three. Claflin's chops – and charm – are sorely wasted. Even the film's backdrop – Italy! – is wasted, as most of the "action" takes place during an indoor wedding reception.