Currently browsing the "
Julia Garner

" tag.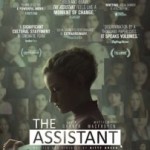 The Assistant is the #MeToo movement's searing indie alternative to Bombshell. It's a slow observational drama that follows a day in the life of a junior assistant to a powerful media executive who is never named, or even seen. The boss-man is just sporadically heard, feared, revered and referred to by various people in the office, where actors, production executives and pretty young things wander in and out throughout the day to conduct "business" – however that may be defined.
Grandma is a bare-bones indie that will likely appeal to those in the artier crowd who like a simple, dialogue-driven movie and the acerbic wit of Lily Tomlin. The veteran actress and comedian plays a lesbian Grandma named Elle Reid whose granddaughter Sage (Julia Garner) shows up on her doorstep requesting about $600 to have an abortion that is scheduled for later that day. Elle doesn't have the cash — but she's willing to help Sage get it. The two spend the next few hours cruising around town in Grandma's vintage automobile in search of friends, and others, who may be willing to float them a loan or give them the money outright. Their unannounced visits rattle a few cages and stir up old memories, especially when they drop in on one of Grandma's old male flames (Sam Elliott). Needless to say, there's an interesting dynamic at play here – and it results in one of the more surprising moments the film has to offer.