Currently browsing the "
Julie Hagerty

" tag.
Both of us Chicks saw this one at the Middleburg Film Festival earlier this year where it was the opening night film. From director Noah Baumbach (Margot at the Wedding, Frances Ha) it stars Scarlett Johansson and Adam Driver as a New York couple whose marriage is coming apart. Nicole is a former TV actress married to Charlie who's a theater director. And they have a cute little boy Henry (Azhy Robertson), whose custody becomes an issue when Mom moves home to the west coast to star in a TV show leaving Dad to commute if he wants to be a part of his son's life. But once a couple of high powered LA divorce lawyers (Laura Dern and Ray Liotta) enter the story, what started out as an amicable split turns contentious. The film has some great performances, but sadly the story itself feels entirely too familiar.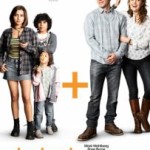 Instant Family is an instant charmer. It's a message movie that balances the funny with the feels and could very well raise critical awareness and interest in foster care and adoption. The film was written and directed by Sean Anders (Daddy's Home) who drew on his own family story for inspiration. Just like the main characters in Instant Family, Anders and his wife took in three siblings born to a drug addict mom. Their journey was fraught with challenges – and laughter. So they decided to put that experience into the cinematic universe to help demystify the foster care and adoption process and celebrate the true meaning of family.