Currently browsing the "
Julie Waters

" tag.
Most of this week's films come from the 80s. There's a jewel heist, a race riot, a dystopian bounty hunter, an academia story, three murderers, a couple of divorces, and a lot of intrigue.
They received 10 Oscar nominations between them, and a lot of other accolades.
This week's films are: A Fish Called Wanda, , Do the Right Thing, Blade Runner, Educating Rita, Dance With a Stranger, Brother's Keeper, His Girl Friday.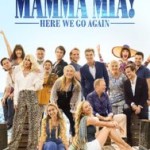 Thank you for the music, the songs I'm singing. Thanks for all the joy they're bringing.
The story may be lame as heck, but who cares? Mamma Mia! Here We Go Again delivers exactly what I expected: a groovy movie musical with a simple plot built around lyrics to ABBA songs — just like the first Mamma Mia! nearly a decade ago. In some ways, the sequel is even better, thanks to the singing, dancing and acting chops of Lily James (Baby Driver, Cinderella) as a younger version of free-spirited Donna Sheridan, the role inhabited by Meryl Streep in 2008. Streep is back for the sequel, but only for a brief yet poignant scene in the final minutes of the film (no spoilers). And oh yeah, Cher pops in too – as Donna's showstopper (and scene-stealer) of a Mom.