Currently browsing the "
Kelly Marie Tran

" tag.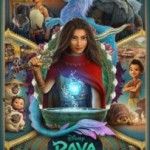 The only opinion that really matters here would be that of a kid who likes animated movies. Especially Disney animated movies. And for that particular demographic, Raya and the Last Dragon is a pretty safe bet. The movie stays true to the conventional Disney formula with a story, animation and voices that kids can embrace and parents can easily tolerate. It's not top-tier classic Disney, but it's a pleasant enough family-friendly diversion if you have Disney+ with Premier Access (i.e. it'll cost ya extra). It's also being released in select theaters, but I still can't suggest anyone of any age go that route before we reach something close to herd immunity.
Don't worry Star Wars junkies. You'll love The Last Jedi. Problem is, I'm not a Star Wars junkie – I'm just a casual fan – so (gasp!), I wasn't as blown away by "Episode VIII" as the somewhat Comic-Con-obsessed crowd that I saw it with. Not that I didn't enjoy most of my two-and-a-half hour visit to a galaxy far, far away. I just happened to like 2015's nostalgia-fueled The Force Awakens a bit more. The Last Jedi picks up right where that one left off. The franchise's young new heroine Rey (Daisy Ridley) finds herself on a distant planet, face to face with the elusive Jedi master Luke Skywalker (Mark Hamill). She's there to return his light saber, get some Jedi training, and convince him to rejoin the Resistance led by his sister, Princess/General Leia Organa (the late Carrie Fisher). You know the rest. I'm just kidding. You don't, unless you've seen the film or read the spoilers. I'm not enough of an expert to know what constitutes a spoiler, so I'll just err on the side of caution and keep it brief.