Currently browsing the "
Kristen Scott Thomas

" tag.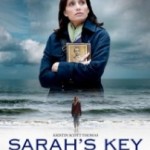 It's been several weeks since I saw Sarah's Key, but it's the type of movie that sticks with you, as most Holocaust-era set films often do. But what sets this one apart is its spotlight on an event that I certainly don't recall ever hearing about in school: a Nazi-authorized roundup of Jews in France in 1942. Not Germany (or Austria or Poland…), but France. Thousands of men, women and children were held for two days in cramped, unsanitary conditions at the Velodrome d'Hiver in Paris (think 'Superdome' during Hurricane Katrina) then carted off to concentration camps. That's the context for the film's story, which is based on a best-selling novel by Tatiana de Rosnay.