Currently browsing the "
Lou Diamond Phillips

" tag.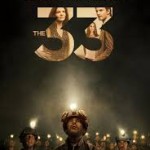 Hard to believe it's already been – and only been – five years since the internationally-televised live dramatic rescue of 33 miners outside Copiapó, Chile. It's a story that was ready-made for Hollywood, so it's no surprise that Hollywood jumped on having it made into a major motion picture (starring Antonio Banderas as the miners' de facto leader, super 'Mario'). The problem is, The 33 doesn't quite rise to the level of major motion picture, despite the very real and captivating narrative and characters in play. It's ultimately a feel-good, but fleeting account of what was happening above ground, and below, after a massive explosion at a 100-year-old gold and copper mine left 33 men trapped 20,000 feet below the surface. The ordeal lasted for 69 days. And rescue was never a sure thing.