Currently browsing the "
Lucas Black

" tag.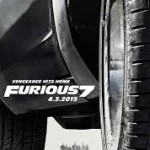 Furious 7 is totally absurd. The stunts defy all laws of physics and gravity. The acting and the dialogue are inconsistent. And yet, it's still a fun ride. No wonder Dame Helen Mirren wants to play a villain in the next one! I didn't see the first four installments of the Fast and Furious franchise, but I became a fan with 5 and 6. They are guilty-pleasure movies, pure and simple, delivering a consistent formula of action, special effects, scantily-clad bods (male and female), bonding, romance, bromance, and family dysfunction – all delivered with a wink and a nod.
Robert Duvall is without doubt one of the great American actors alive and the real reason to see the nice little movie Get Low. Set in 1930s Tennessee, it tells the true story of a hermit named Felix Bush who decided to throw himself a funeral party while he was still alive. Having spent 40 years living out in the woods in a cabin, he is a grown-old Boo Radley, the decent eccentric that the town has been making up dangerous stories about for all these years, that the children have feared for generations, but just have to go bother to prove they're tough.