Currently browsing the "
Malcolm McDowell

" tag.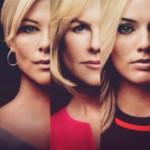 This movie has so much going for it – a knock-out cast, a ripped from the headlines #metoo #girlpower story, a humiliating takedown of the creator of Fox News – so why in the world isn't it more compelling? Bombshell is taken from a true story. In case you missed it, a couple of years back, Gretchen Carlson (Nicole Kidman) one of the blondes of Fox News was fired and rather than just take it on the chin, she sued her boss, Fox founder Roger Ailes (John Lithgow), for sexual harassment and opened the gates for a flood of other women within the organization to come forward with similar stories, culminating in his ouster. At about the same time another of the beautiful women of Fox, Megyn Kelly (channeled here by the amazing Charlize Theron) decided to have her very own #girlpower moment during a Republican presidential debate when she famously asked GOP candidate Trump about his sexist treatment of women and was the recipient of one of his memorable disses about "blood coming out of her wherever." You might think these two women would be natural allies then. But it seems that at Fox News it was every woman for herself.
I have my favorite movie of the year now, and I expect that The Artist will be at the top of a lot of other reviewers' lists, too. I've been told I gush about it. And I do not gush often. Considering that it is in black & white and is a silent film, you might wonder why.