Currently browsing the "
Marielle Heller

" tag.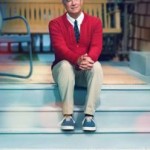 A Beautiful Day in the Neighborhood sticks with me today as much as it did a month ago when I pegged it as one of my favorites at the Middleburg Film Festival. Cheesy and sentimental as it may sound, there's no denying the power of – and need for – the film's inspirational and aspirational message that it only takes one person to inspire a world of kindness. It doesn't hurt to have that message conveyed by Hollywood's Mr. Nice Guy, Tom Hanks, channeling children's television icon Mr. Fred Rogers.
We're so used to Melissa McCarthy being the funny actress, that's it's hard to imagine her otherwise. But nobody's going to question her acting chops after her turn as Lee Israel, true life best-selling author turned celebrity memorabilia forger. While there are certainly funny moments in this adaptation of Israel's book about her descent to the remainders table and her newfound skill writing faux letters in the voices of some of the great authors of the 20th century, McCarthy's Israel is a caustic misanthrope whose only friend is her cat. That is, until she meets aging party boy Jack (Richard E. Grant, Gosford Park, Withnail & I) who becomes her drinking buddy and partner in crime.