Currently browsing the "
mark monroe

" tag.
This HBO documentary wasn't even on my radar until friends of my particular generation started raving about it on Facebook. So I felt inclined to check it out. And I'm glad I did. The Bee Gees: How Can You Mend a Broken Heart explores the surprisingly interesting history of the group that basically invented a new form of Disco with their hit soundtrack for Saturday Night Fever – before the genre nearly killed them. Remember Disco Duck? Not their fault.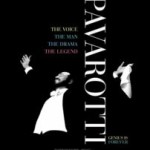 Don't get me wrong. My appreciation for Pavarotti does not mean I appreciate having been subjected as a kid to live radio broadcasts from the Metropolitan Opera every Saturday afternoon. That was strictly my parents' thing. Sure, I survived the likes of Madame Butterfly, Carmen and La bohème. But I didn't have a clue what anyone was singing, and didn't much care. So how do I know of Luciano Pavarotti? He was all over the place in my youth, opera's ambassador to the world at large. He was on morning shows and late night television, the Muppets and Sesame Street, and featured in commercials for Shower to Shower and American Express. He had a larger than life personality, an infectious smile, and yes – a really big voice.