Currently browsing the "
Matt Bettinelli-Olpin

" tag.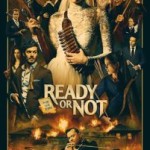 I wasn't exactly ready for Ready or Not. Horror movies are not my thing. But with IT Chapter Two waiting in the wings, I thought it best to ease into the horror with a bit of camp. And that's what Ready or Not is: a quirky, campy horror flick that is bloody entertaining, in an off-the-chain Grimm Fairytales sort of way. It's about a new bride who gets roped into playing a deadly game of Hide and Seek with her rich and eccentric new in-laws immediately following her wedding on the grounds of the family's creepy mansion. Aint love grand?