Currently browsing the "
Matthew Heineman

" tag.
The Boy From Medellin is a documentary about a Colombian reggaeton superstar who I must confess I'd never heard of. Not really my jam (I had to look up 'reggaeton'). So I'm going to go out on a limb here and suggest that this documentary is most likely to appeal to the fan base of its Latin Grammy-winning star, Jose Alvaro Osorio Balvin, aka J Balvin. The film was shot over one week leading up to a highly-anticipated sold-out stadium show in Balvin's hometown of Medellin. It turned out to be a pivotal week for Balvin — and his country — as the "Latin Spring" spread into Colombia, bringing a wave of anti-government protests into the streets.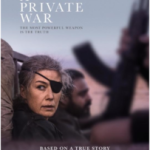 You simply can't paint all journalists and all of journalism with the same broad brush. A Private War reminds us of that. The film follows the last ten years in the risk-fueled life of the Sunday Times of London foreign affairs correspondent Marie Colvin. The American-born journalist dedicated most of her adult life to exposing the human atrocities of war across the globe, up to the very moment of her untimely death in the besieged city of Homs, Syria on February 12, 2012. She was 56. A Private War pays homage to Colvin's bravery, tenacity and bravado, while also exposing the physical and psychological trauma that resulted from the choices she made. Rosamund Pike (Gone Girl, Beirut, Hostiles) plays Colvin with admirable precision, nailing her unique voice and mannerisms; and Jamie Dornan (Fifty Shades, Anthropoid) delivers a strong supporting performance as Colvin's frequent partner in the conflict zones, British-soldier-turned-photojournalist Paul Conroy.