Currently browsing the "
Michelle Dockery

" tag.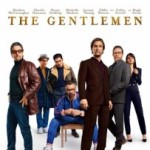 The Gentlemen is a stylish crime caper with writer/director Guy Ritchie's fingerprints all over it. It's very much a "Guy" movie – and a "guy movie", with a splash of estrogen provided by Michelle Dockery (Downton Abbey) in some lethal-looking Christian Louboutin stilettos. She's surrounded by an A-list cast of chaps including Matthew McConaughey, Charlie Hunnam, Henry Golding, Jeremy Strong, Eddie Marsan, Colin Farrell and Hugh Grant winding their way through a witty and wily narrative about drug syndicates, blackmail, bribery, murder and all-around mischievousness. The plot thickens, and thins, simmers and boils over to yield a dish that's a bit messy, but still tastes good.
Downton Abbey is a movie for the legions of loyal fans of the "Downton Abbey" television series, and I am quite confident they will be most pleased with this highly-anticipated opportunity to revisit the estate and all its inhabitants, from the aristocratic Crawley family upstairs, to the devoted servants down below.
What? You've never seen the show and don't know a Crawley from a crawfish? Oh dahling, I'm afraid you must move on. Or binge watch the six seasons that ran on PBS from 2010 to 2015. Or, at the very least, watch this 10-minute recap on YouTube, followed by the extended series finale, available on Amazon Prime. That's what I did. Sure, it's a bit like sneaking into a marathon a mile or two from the finish line. But without that baseline of knowledge about the characters and their backstories, I would have felt completely lost. I'm sure I still missed plenty of subtext, but at least I was able to appreciate the fine acting, witty dialogue, gorgeous costumes, early 20th Century set design, and the bucolic scenery.