Currently browsing the "
Mike Myers

" tag.
As biopics go, Bohemian Rhapsody is not a great movie. But it does feature plenty of strong performances and a final act that more than makes up for its shortcomings – particularly if you're a fan of Queen and/or grew up in the 'Live Aid' generation. Bohemian Rhapsody chronicles the men and music that made up the iconic British rock band fronted by Freddie Mercury (Rami Malek, TV's Mr. Robot) from 1970 until his AIDS-related death in 1991. To this day, the band plays on – in various incarnations – with Mercury's influence still vital to its core, though his energetic presence is sorely missed. He was a unique dude.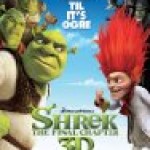 The first Shrek was truly special; a twisted fairy tale with a fairy-tale twist that worked on so many levels- for kids and adults.