Currently browsing the "
Millennium Trilogy

" tag.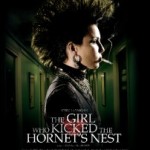 With all the hoopla about the penultimate Harry Potter and the third installment of The Chronicles of Narnia, the end of the Steig Larson Millennium Trilogy may have slipped your notice. And that's too bad since The Girl Who Kicked the Hornet's Nest may be the best of the trilogy. Whether you've seen the first two, this movie is an entertaining ride on its own.
The second installment of the Millennium Trilogy, The Girl Who Played with Fire, is really good, but unlike the first installment, I felt that there were lots of missing pieces that could only be filled in IF you read the book. Whether they make a difference to enjoying the ride is a different question altogether.