Currently browsing the "
NASA

" tag.
I love Ryan Gosling (La La Land, Drive, The Notebook). I love space dramas, and true stories, and American heroes. I'm a big fan of director Damien Chazelle (Whiplash, La La Land). But I just didn't love First Man – much as I really, really wanted to. It's a solid flick, for sure, with some great visual effects and a moving narrative about the risks and sacrifices astronaut Neil Armstrong (and many others) took in one way or another to advance our exploration of space. I was a mere toddler when Armstrong landed on the moon in 1969, but I can assure you I was plopped in front of the TV along with half the planet to watch history unfold. No #FakeNews here! President John F. Kennedy issued a challenge, and we sent a man to the moon. How awesome is that? This is the stuff of movies! Which brings me back to… First Man.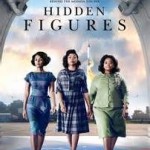 How did we not know about this story before now?! That's the biggest question I had after watching Hidden Figures, what I venture to call the best feel-good movie to hit theaters in recent weeks, months, or possibly even years. It's based on the fascinating, true story of three African-American women who were part of a segregated 'human computer' division at NASA that 'did the math' that helped send astronaut John Glenn into orbit at the height of the space race in the early 1960s. Talk about the right stuff. These women had it.