Currently browsing the "
Noam Chomsky

" tag.
I really liked this film. It's another that was somewhat under the radar that I think audiences would love if they knew a bit more about it. So… Captain Fantastic is about a single father raising six kids somewhere in the forests of the Pacific Northwest. He's teaching them to be resourceful and both intellectually and physically rigorous. But a death forces the family to leave their paradise for the real world and confront the pros and cons of their cut-off existence. It's funny, touching, and thought provoking.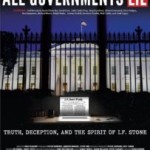 This is without doubt the perfect film for this particular time in America! The question this documentary poses is what the hell is wrong with our current media and why don't we have journalists doing the work that I.F. Stone did so well back in the day. I'll admit not knowing much about I. F. Stone before seeing this one. Apparently he once said, "All governments lie," and the duty of the press is to ferret it out and keep them honest. More than being a biopic, this one looks at Stone's influence on modern day independent journalists. With interviews from Amy Goodman, Glenn Greenwald, Matt Taibbi and may others, it skewers the news that most Americans depend on to keep them informed and suggests that it is just an extension of an entertainment-centric dumbing-down strategy to keep the people ignorant.