Currently browsing the "
Paul Feig

" tag.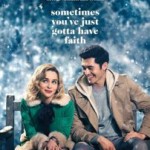 Romantic comedies and dramas are few and far between these days, so when a decent one does come along, it's generally worth celebrating, even if it's just so-so. Such is the case with Last Christmas. Will it become an instant Christmas classic, ala Love Actually, Elf, or It's a Wonderful Life? Extremely doubtful. Will it satisfy a minor craving for holiday heartache and cheer, with a splash of meet-cute? Absolutely. It's a step above Hallmark and Lifetime (and straight-to-Netflix) fare, though not a giant leap.
A Simple Favor is a tough one to process and define. It's a quirky crime drama that goes quite dark, but in a relatively light way. As weird as it is, it somehow works, because it pairs Anna Kendrick and Blake Lively. Kendrick (Pitch Perfect, Mr. Right, Up in the Air) plays a goody-two-shoes single mommy vlogger named Stephanie who becomes besties with a sly and stylish PR executive named Emily (Lively, The Age of Adeline, "Gossip Girl", Sisterhood of the Traveling Pants). The two have very little in common, except they both have young sons who attend the same school and clamor for a playdate. Whip up a few afternoon martinis, engage in some gal-pal chat about deepest, darkest secrets, and throw in a cute husband (Henry Golding, Crazy Rich Asians), and you've got the makings of a stylish, twisty thriller moored in Emily's sudden and mysterious disappearance.