Currently browsing the "
Paula Beer

" tag.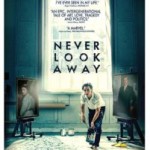 With Arty Chick off to parts unknown to direct a documentary, it's possible her reviews will be fewer and farther between for a while. So I will try and highlight some of the artier films that I happen to see (and like). I'll also note if they've been discussed on my weekly podcast, "The Cinema Clash" with Charlie Juhl, who tends to share Arty Chick's passion for smaller, indie and foreign films. If we both a like a particular film, there's a good chance you will too! Topping my list of recent forays into foreign-film land is the Oscar-nominated German film, Never Look Away. It's part psychological drama, part war drama, part period romance. It takes place over the course of about 30 years, which helps explain the film's three-hour running time.
French writer/director François Ozon has made some of my favorite films these last few years. With The New Girlfriend, In the House, and Potiche he's shown himself to be very adept with comedy and unusual situations. But with his new film Frantz, he enters the realm of historical drama and shows he is equally skilled in more serious films. A semi-remake of Ernst Lubitsch's Broken Lullaby, it's set just after the first World War, in a small German town. It's the story of Anna (Paula Beer), a beautiful, young German woman whose fiancé Frantz (Anton von Lucke) died in the war and Adrien (Pierre Niney), a sad young Frenchman, who comes to town having been close friends with Frantz in Paris before the war. She discovers him as he is laying flowers on Frantz's grave, and he becomes a source of happy memories for her and for Frantz's grieving parents.