Currently browsing the "
Pawel Pawlikowski

" tag.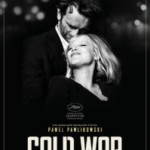 In this passionate love story set in Soviet-era Poland, Zula, a young singer with a past, enters a state-run performing academy where she meets the love of her life, Wictor, the pianist-musical director of the program. The film follows their on-again and off-again relationship across decades as they escape the Iron Curtain and ultimately return. Music is a key element of the story. There is one folk song that is sung first as an audition piece, then as a chorus in concert, then as a Polish jazz song, then translated into French. And Joanna Kulig's performance as Zula is particularly powerful. Not only does she sing beautifully, but her face lights up the screen.
Despite a few (hotel reservation and RSVP) potholes on the road to this year's Middleburg Film Festival, all's well that ends well! And what an ending it was. The closing film was my favorite film – by far – securing my only four-star ballot after four days of movie madness in the Virginia countryside.
So, without further ado, here's what I saw, and how I ranked 'em: