Currently browsing the "
Pete's Dragon

" tag.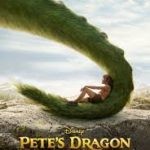 Good news, mainstream movie fans: There really is something for just about everyone at the Box Office this weekend. First, however, I must confess that I missed the screening of Sausage Party and doubt I'll get around to watching it anytime soon, unless someone wants to send me a Sausage link. Regardless, I suspect the movie is filled with enough raunchy adult animation and humor to entertain a certain demographic. I'll just leave it at that (for now), and move on to Pete's Dragon, Florence Foster Jenkins, and Hell or High Water…
The best new family film option is Pete's Dragon, a live-action reimagining of a 1977 Disney flick that I don't recall watching as a kid, even though it featured music and singing (i.e. how did I miss that one!?) I'm not exactly the target demo anymore for this type of movie, so I borrowed 12-year-old Aaron, 8-year-old Marisa, and their parents for an honest, independent evaluation of this Tarzan-esque meets dragon story. The general consensus: They liked it!