Currently browsing the "
Polaroid

" tag.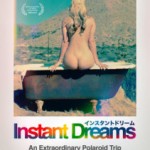 Did you ever have a Polaroid camera or loved that instantaneous thrill of having the image appear in your hands? The Polaroid camera was a marvel and this quirky doc clues you in to how truly amazing it was as it charts the history from its invention to its demise. It also takes three (and a half) people and explores their connections to the film: a man trying to recreate the film after Polaroid officially folded and the formula for the film went with it, a photographer still using a hoard of the out of date film, and an author who wrote a book about all about Polaroid. And while some of it is interesting, the pieces don't really add up to a whole. And if you are at all into photography you know that there is instant film available today. It's an art for art's sake film in a lot of ways.
For those who don't go bananas over blockbusters like War for the Planet of the Apes, there are some alternatives out there. But, be careful what you wish for.
Wish Upon This creepy horror movie from the director of Annabelle starts out with a fair amount of promise, but quickly deteriorates into a dud. It stars Joey King (White House Down) as Clare Shannon, a High School teen whose widower dad (Ryan Phillippe) gives her an old Chinese music box that he found while dumpster diving. She's able to decipher enough of the Chinese lettering on the box to know that it will grant her seven wishes. But for some reason, she doesn't clue into the second part of the message, which basically warns that for every wish, there's a blood price to be paid. So she starts making the typical teen wishes (to get the shallow stud muffin to fall in love with her, to be rich, to be popular, etc.) and people die. Gruesome, twisted deaths. Oops.