Currently browsing the "
political thriller

" tag.
Talk about a film that is hard to watch! In this political thriller, you're watching the evolution of assassin Yigal Amir (Yehuda Nahari Halevi), a law student who decides that it is religiously justified to murder Israeli Prime Minister Yitzhak Rabin because he is signing a peace treaty with the Palestinians. It was in September 1993 that Rabin sat down with PLO Chairman Arafat and President Clinton and hammered out the Oslo Accords, sending the Orthodox Israelis into the streets to protest the agreement because it was giving up territories they believed were theirs by God-given right. Incitement is a film that takes you inside the ultra-Orthodox community where all question of right and wrong are vetted by rabbis, and their view is that Rabin is a traitor to the Jewish people and murder is justified. And while it may take place a couple of decades ago, it doesn't seem like much has changed in Israel or many other places around the world where extremist ideology can subvert democracy. It's a scary movie.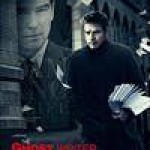 First, the good news: Ewan McGregor, Pierce Brosnan and Olivia Williams deliver solid performances in this political thriller directed by Roman Polanski. The bad news: The Ghost Writer is often hard to follow – geographically as well as dramatically.