Currently browsing the "
racism

" tag.
This year was a distance festival. There were opportunities to be in the theaters in DC, but I chose to watch everything online from afar, on my couch. That's a mixed blessing. No running from theater to theater. No missing something because it overlapped with another film. No frozen feet from arctic-cooled theaters. Lots of good snuggles with my dog. But also no standing in line with other festival-goers and talking about what we've seen and loved. No Q&A's after the films. (There were some that were available, but it just didn't seem the same taped from a distance.) And no watching films in some of DC's beautiful landmarks like the National Archives. A slew of distractions that made it very different from sitting in a dark room with an audience. And for me the worst part was that I don't have a big screen television, so some of the films were definitely shortchanged.
Nevertheless, it was a good festival and there were several films I will be thinking of for a while. The Audience Award for Best Feature went to one of my faves for sure, Storm Lake. It is a smaller film and I hope that the award will mean it gets seen by a lot more people.
The films I saw were: The First Step – Radiograph of a Family – Rise Again: Tulsa and the Red Summer – LFG – Storm Lake – The Neutral Ground – The One and Only Dick Gregory – Obama: In Pursuit of a More Perfect Union – Roadrunner: A Film about Anthony Bourdain – The Story Won't Die – Daughter of a Lost Bird – and The Lost Leonardo.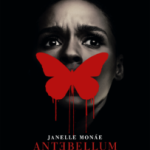 Antebellum could have been a seminal film for the times – if the story made any sense. It aims high, but gets bogged down in a metaphorical morass about past and present issues relating to race, class and gender. The film is billed as a high-concept psychological thriller/horror movie from the producers of the Jordan Peele gems Get Out and Us. But it fails to measure up, and the ending is far from satisfying. Fortunately, it was under two hours so the time did not feel like a total waste. More like a disappointment.