Currently browsing the "
Riccardo Scamarcio

" tag.
Italian poet, philosopher and filmmaker Pier Paolo Pasolini loved nothing more than to push the envelope, to scandalize, to shock the senses. So it's only fitting that Abel Ferrara (Bad Lieutenant) should direct a film about his last days since they are gritty birds of a feather. Pasolini stars Willem Dafoe (Spiderman, At Eternity's Gate) who bears more than a passing resemblance to the man who died in 1975, murdered and left to rot on a beach in Ostia. The film is a kaleidoscope of Pasolini's final film and his final quotidian existence, eating with his mother, giving an interview to a journalist, writing away on his typewriter, and trolling for young men to have sex with. And throughout there are scenes from an imagined version of his final script. It's in Italian and English, sometimes subtitled, and sometimes not. And the audience is left to make the connections. The film assumes a knowledge of the filmmaker and his films, frequently making it a frustrating experience. But mostly it's just too coarse and pretentious for my taste.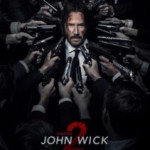 He's back! And he's still a bad ass killer. I called the original John Wick stylishly violent, and this one takes it up another notch, both on the style and the violence. But it's still the story of a sad and weary hit man who's brought back in to the violent world he's trying to leave behind. Keanu Reeves stars as Wick and he's just as fun to watch as the last time.