Currently browsing the "
Richard Curtis

" tag.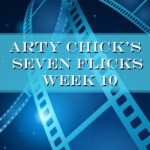 This week is heavy on movies about couples. They include rom-coms and complicated relationship stories, and the characters range from criminals to musicians to politicians, from kings to bakers. The genres include classic dramas, and film noir, and brilliant satire. And there's a good dollop of sex, for good measure.
They're mostly from the 80s and 90s, though one is from the 60s. And something they all (except one) have in common is that they were nominated for a lot of Oscars, and won quite a few.
The films are: Moonstruck, Kiss of the Spider Woman, Body Heat, Nashville, Out of Sight, Four Weddings and a Funeral, and The Lion in Winter
Quick – try and recite the lyrics to Eleanor Rigby ("picks up the rice in the church…") Not so easy, is it? Imagine having to recount the music and lyrics to all the Beatles classics – or risk having them gone forever? That's a dilemma central to the premise of Yesterday, a somewhat bland yet charming cinematic tribute to the Beatles – and to love, love, love.
Won't you please, please help me… stop singing so I can tell you about the movie? Don't let me down. Here goes: