Currently browsing the "
Richard Kind

" tag.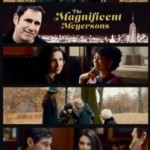 This family drama is for those who like a good conversation. The film consists of a series of talks between various members of the Meyerson family and their friends and family over the course of one day in New York, frequently walking down the street or sitting on a park bench. They're a normal enough family with the usual kinds of problems we all have. There are four grown siblings, a mother, and a grandmother, and the elephant in the room is the father who left and affected them all in different ways that still resonate. It's a smart script that lets you get to know, and mostly like, the characters as the deeper story of the family emerges.
What were the Pixar folks thinking, making a film about the conflicting emotions in a little girl's head? It might seem like a pretty cerebral premise for a kids' flick, but from this very unlikely subject matter comes a fun for the whole family film. I went with my nephews (ages 6, 8, and 17), my sister in law (40ish), and my mother (age 89), and we all appreciated it for different reasons depending on our ages. There are funny and thoughtful bits that only an adult will get, but the kids and the teenager were thoroughly entertained.