Currently browsing the "
Robert Duvall

" tag.
Oh, you want to know more?
Okay, here goes. The Judge is riddled with clichés, runs about a half-hour too long, and doesn't really offer up anything groundbreaking. But I still liked it, mostly because Robert Downey Jr. is so darn watchable – even more so when he's not obscured by an Iron Man suit. The guy is aging – and acting – really well.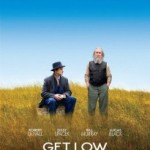 Robert Duvall is without doubt one of the great American actors alive and the real reason to see the nice little movie Get Low. Set in 1930s Tennessee, it tells the true story of a hermit named Felix Bush who decided to throw himself a funeral party while he was still alive. Having spent 40 years living out in the woods in a cabin, he is a grown-old Boo Radley, the decent eccentric that the town has been making up dangerous stories about for all these years, that the children have feared for generations, but just have to go bother to prove they're tough.