Currently browsing the "
Rudolph Nureyev

" tag.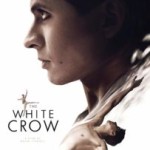 "White crow," as the film informs us early on, is a term used to describe a person who is unusual, extraordinary, not like others, an outsider.
A Rudolph Nureyev.
For those unfamiliar with political and dance history, Nureyev was a promising young talent in Leningrad's famed Kirov ballet company when he shocked the Soviets and the world by defecting to the West at the conclusion of a Parisian tour in 1961. The White Crow is Nureyev's story, as told through the lens of actor/director Ralph Fiennes who pulls double-duty as Nureyev's Russian dance instructor Alexander Pushkin. Fiennes chose a dancer over an actor to portray Nureyev – a leap of faith that ends up sacrificing story in the service of art.