Currently browsing the "
Samara Weaving

" tag.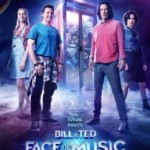 Talk about raising the stakes! In 1989, Bill & Ted – informed by a visitor from the future that they were destined for musical greatness – went on a most Excellent Adventure through time, to save themselves from a failing grade in high school history. In 1991, those same metalhead slackers went on a Bogus Journey involving The Grim Reaper, robotic duplicates, and a Battle of the Bands. Now – 25 years later – Bill S. Preston (Alex Winter) and Ted 'Theodore' Logan (Keanu Reeves), aka "Wyld Stallyns," must write the song that will save the entire universe – in the next 75 minutes! Fortunately, they still have access to their time-travel phone booth, and they have kids old enough to help: Bill's daughter Thea (Samara Weaving) and Ted's daughter Billie (Brigitte Lundy-Paine). And let's just say – the apples don't fall far from the tree.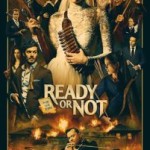 I wasn't exactly ready for Ready or Not. Horror movies are not my thing. But with IT Chapter Two waiting in the wings, I thought it best to ease into the horror with a bit of camp. And that's what Ready or Not is: a quirky, campy horror flick that is bloody entertaining, in an off-the-chain Grimm Fairytales sort of way. It's about a new bride who gets roped into playing a deadly game of Hide and Seek with her rich and eccentric new in-laws immediately following her wedding on the grounds of the family's creepy mansion. Aint love grand?