Currently browsing the "
Sergio Peris-Mencheta

" tag.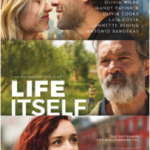 Don't let the trailer fool you. Life Itself is not This Is Us. Yes, it is a multi-generational family drama written and directed by This Is Us creator Dan Fogelman, and yes, you will need tissues. But even Fogelman will tell/warn you that Life Itself is darker and heavier than his serial television weep-fest. It's a melodramatic soap opera of a film that tells the story of two families – in New York and Spain – whose lives are connected by tragedy. It's heartbreaking, but ultimately uplifting even as it seeks to manipulate our emotions with a heavy-handed theme that 'Life' is an unreliable narrator of our story. The film is broken up into "chapters" to drive the point home.