Currently browsing the "
Sonia Braga

" tag.
Somewhere in the middle of nowhere in Brazil is a village called Bacurau. It's cut off from the world. They have to truck in water and supplies. But the people live their everyday lives pretty normally. Then strange things start to happen. The town disappears from maps. Their cell signal is gone. Their water supply truck arrives with bullet holes in it. And then a couple on motorcycles appear. Turns out they're part of a gang of blood-thirsty tourists who aim to use the town for target practice. They chose the wrong town.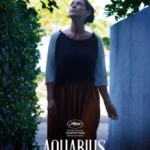 Aquarius is the name of an apartment building overlooking the beach in Recife, Brazil. Clara (Sônia Braga) is the only resident there. A beautiful woman in her mid-sixties, she loves her apartment, and try as hard as they might, the company that has bought out all the other residents cannot persuade her to take their very generous offer so they can build another high-rise like those surrounding her. But to Clara this is her home, where she loved her now deceased husband and raised her children. It is where she is planning to die, after a life well-lived. The developers suffer under the mistaken notion that they can force this old woman out. But Clara is not going!