Currently browsing the "
Sterling Hayden

" tag.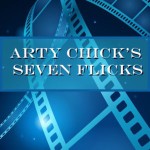 This week I chose films from the 40s, 50s, 60s, 90s, and 00s. Two are from the same director. They take place in Rome and Paris and Berlin and Tokyo and Washington. Several of them are considered to be the greatest films of their genres. There's comedy, political satire, civil unrest, a hitman double-cross, and what we do for those we love is a recurring theme.
This week's films are:
Bicycle Thieves, Dr. Strangelove, Lost in Translation, Run Lola Run, La Haine, Le Samourai, and Umberto D.