Currently browsing the "
Thailand cave rescue

" tag.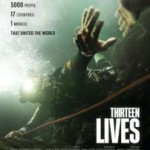 Thirteen Lives is one of those inspiring movies that you can't really find much fault with (unless you're claustrophobic). It's based on a true story that screamed "miracle movie" from the instant the story played out on international television in 2018. Then, it got Ron Howard (Apollo 13, A Beautiful Mind, Rebuilding Paradise, We Feed People) onboard as director, so you could rest assured the vibe would be compelling, authentic and uplifting. If you like documentaries and dramas inspired by actual events, it's worth diving into Thirteen Lives. The film runs nearly two and a half hours but as you become immersed in the story (and the watery cave), time pretty much stands still. Most people (who weren't living under a rock in 2018) know how the story ends (yay!). What the movie hangs its dramatic hat on is all the little details we didn't know about at the time or weren't quite captured in last year's excellent, Oscar-nominated documentary The Rescue (which you should see before or after the dramatized version).