Currently browsing the "
The Hitman's Bodyguard

" tag.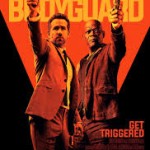 The Hitman's Bodyguard falls into the bucket of mindless summer entertainment that offers a decent-enough cinematic escape for anyone willing to accept the movie for what it is and not over-analyze its foibles. Ryan Reynolds channels his Deadpool sarcasm to play Michael Bryce, a down-on-his-luck "protection agent" (i.e. bodyguard) who is called upon to safely transport his nemesis, notorious hitman Darius Kincaid (Samuel "Snakes on a Plane" L. Jackson) to the Hague so he can testify against brutal East European dictator Vladislav Dukhovich (Gary Oldman). It's a familiar formula: The clock is ticking. If the witness doesn't get to the Hague before a 24-hour deadline, the evil dictator will surely walk free. Cue the overlong gun battles, myriad car and motorcycle chases, and outlandish boat escapes as Dukhovich's cronies take aim at Bryce and Kincaid.