Currently browsing the "
Tom Harperinspired by true story

" tag.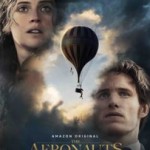 The Aeronauts is one of those movies that plenty of folks will like, but a lot of critics will wrestle with. It's good, but it's also disappointing. I saw The Aeronauts at the Middleburg Film Festival immediately following a screening of A Beautiful Day in the Neighborhood and that may have clouded my foray into the clouds with Eddie Redmayne and Felicity Jones. Mister Rogers is a tough act to follow! Redmayne and Jones (co-stars in The Theory of Everything) play a pair of adventurers trying to set a world record – and prove you can predict the weather – by sailing a hot-air balloon thousands of feet up into frigid skies in 1862. Oxygen deprivation is never a good thing. The Tom Harper-directed film, inspired by true events, has some great special effects and cinematography but overall drifts more than it soars.