Currently browsing the "
Valentine's Day

" tag.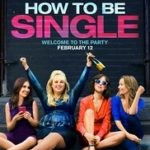 Apparently, I'm doing it all wrong. Then again, I'm not really sure what the takeaway is supposed to be for this movie. I just hope it doesn't reel in the underage crowd hoping to see Rebel Wilson reprise her role from (the PG-13 rated) Pitch Perfect 2. How to Be Single is rated R. And the 'R' isn't for romance. The movie is about hook-ups, misguided attempts to find a love connection, friendship, online algorithms, a few intangibles, a lot of sex and alcohol jokes, and other stuff related to being single in the big city. It aims to be a romantic comedy but generally misses the mark. It's actually kind of sad. But a lot of single gals will likely gather for a cosmo or two and flock to it anyway, and others might drag the boyfriends along. Happy Valentine's Day!
Garry Marshall is brilliant. He made a mildly entertaining movie with an A-List cast and a name that virtually guarantees it a place in holiday rerun history. Valentine's Day is like Crash-light. Really, really, really light. It follows a bunch of folks whose lives intersect in various ways as they break up, make up, find love or survive singledom on Valentine's Day in Los Angeles.