Currently browsing the "
Viktoria Miroshnichenko

" tag.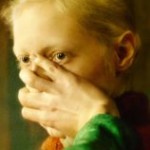 War is hell. And life after war is, too. Most war films concentrate on the effects that the carnage has on men, but this Russian melodrama looks at how the women are scarred, too. Set in Leningrad just after World War II has ended, when the Siege may be over, but the people are still dealing with the hunger and deprivation, Beanpole is a character study of two young women, friends from the battlefield, both trying to make sense of their lives after the war. Iya affectionately known as Beanpole (Viktoria Miroshnichenko) works in a hospital tending the wounded. She has a cute little boy at home that she dotes on. But she is afflicted with a condition caused by an explosion that makes her "freeze" from time to time – staring into space and making tiny clicking sounds until she comes back to life. And it causes her to make a tragic mistake. But then her wartime buddy Masha (Vasilisa Perelygina) arrives back from the front, and though it begins as a warm reunion, their relationship takes some very dark turns.