Currently browsing the "
wizard

" tag.
The consensus on Oz the Great and Powerful seems to be that it's neither great nor powerful. But that doesn't mean it's not worth seeing. I actually liked it well enough for what it is – a simple, entertaining prequel to a beloved classic. Don't over think it. You can't dare to compare this fantastical flick to the original Wizard of Oz. For one, there's very little singing (bummer). And two, there's no Dorothy. But hey – this is the wizard's backstory. The film is colorful and quirky – much like its star James Franco – and doesn't take itself all that seriously. So, if you can forgive a few potholes along the Yellow Brick Road, you may actually enjoy this journey back to Oz.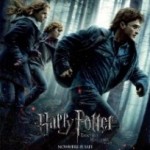 Okay, I must confess. I'm a rather ignorant muggle when it comes to the Harry Potter franchise. I haven't read the books, and I don't think I've seen all the movies. But I don't live under a pop culture rock, so I can definitely understand and appreciate their appeal. And I can attest – with a certain amount of confidence – that the penultimate Potter flick, Harry Potter and the Deathly Hallows, Part One will satisfy most if not all of the HP fans, young and old, and leave 'em wanting (and waiting) for more. Unfortunately, they'll have to wait eight friggin' months! Part Two doesn't hit theaters until July. And therein lies the movie's only real flaw. HPATDH Part One draws you in from the very first frame, cruises along at a steady clip, and ends – abruptly. No fair! What am I supposed to do now? Read the book!?