Currently browsing the "
workplace comedy

" tag.
Late Night is a solid workplace comedy that fluctuates between really smart and funny, and just okay. That unevenness may limit its success at a crowded box office, though it does have all the key ingredients for a second chance at life in the streaming and rental market. Emma Thompson plays Katherine Newbury, a legendary late night talk show host in danger of losing her show after 30 years. She's brilliant and witty, but also harsh, demanding and stuck in her ways. As a boss, she's like a hybrid of intimidating editor Miranda Priestly from The Devil Wears Prada and the prickly genius diagnostician from House. In a last-ditch effort to shake things up and become more relevant, Katherine decides to finally add a woman to her all-male writing staff, and that opens the door for Molly Patel (Mindy Kaling), an efficiency expert at a chemical plant who has a flair for comedy. Molly happens to be in the right place at the right time to get the kind of big break we all dream about. But she's going to have to overcome a lot of obstacles and resentment to prove she's more than just some "diversity hire"… all while staying true to her enthusiastic and idealistic self.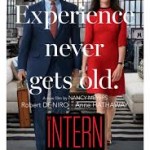 From the opening sequence, you know you're watching a Nancy Meyers movie. The director of many chick flick gems including The Holiday, Something's Gotta Give, It's Complicated, and Baby Boom has a definite formula, and it works again here– to some degree. The intern is a pleasant enough movie that manages to shine a humorous and poignant light on some interesting themes, from aging to work-life balance, to friendship and loyalty. But the movie is not without its flaws. There are a couple of scenes that don't really go anywhere, and a few character traits that don't particularly track. And, it's really hard not to draw comparisons to that 'other' Anne Hathaway star vehicle, The Devil Wears Prada, where Hathaway plays the embattled assistant to the demanding editor-in-chief of a high fashion magazine (played by legendary actress Meryl Streep). In The Intern, Hathaway is the founder and chief executive of a start-up online fashion site that employs a "senior" intern named Ben Whittaker, played by legendary actor Robert De Niro. Why become an intern at 70? He's a lonely and bored widower seeking new challenges in his retirement years. And he's still got a lot to offer.