Currently browsing the "
Zoe Kazan

" tag.
This anthology film from the Coen Brothers will only be in a few big city theaters for a week before it begins streaming on Netflix. It's made up of six separate stories all set in the Wild West held together by beautiful cinematography and a great cast. A couple of the stories are a lot of fun. A few, meh! All together it clocks in at 132 minutes, and there were certainly places where a little snip or two would have made it better. But if you're a fan of the Coens, you'll probably overlook the length and have a fine time.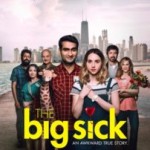 The Big Sick is an offbeat romantic dramedy based on the real-life courtship between Pakistan-born actor/comedian Kumail Nanjiani and his therapist-turned-writer/producer wife, Emily V. Gordon. The pair co-wrote the script that dramatizes – in a clever and witty way – the struggles they went through to overcome cultural differences, and a major health scare, to find their happily ever after. Kumail is played by Kumail Nanjiani (not necessarily the smartest casting decision) while Emily is played by Zoe Kazan, who has much stronger acting chops, even though she's in a coma for half the movie. The film is bittersweet and also rather timely as a platform for showcasing misconceptions about Muslim culture.